Description

LG G3
5.5" Quad HD Screen, 13 MP Camera, Android KitKat
5.5" Quad HD Display
Knockcode™
13MP OIS Camera
Built in wireless charging*
3000MAH REMOVABLE BATTERY
Android KitKat OS (4.4)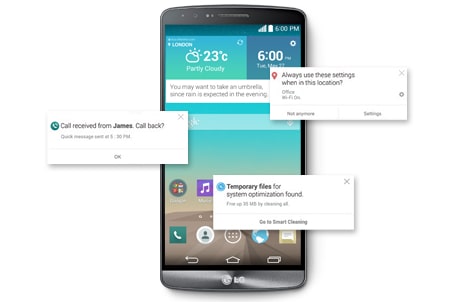 Smart Tips – Before You Ask
Smart Notice suggests what you need, even before you need it.
Predictive recommendations are based on the status of your phone, your past behaviour and your current location.
Smart Cleaning suggests ways to clear unwanted apps from the phones memory eg.
"Would you like to erase the 9 apps you haven't used for two months?"
Call log based reminders suggest actions to follow up eg.
– "You missed a call from James at 12:30 p.m. Would you like to call him back?"
Built in Wireless Charging
LG G3's wireless charging capability frees you from plugging in the handset to charge the 3000mAh removable battery. The wireless charging dock* can be used as a stand to easily access and view the screen or can be folded to carry in your pocket or handbag.
*Wireless charging dock sold and supplied as a separate accessory
5.5" Quad HD Display
The G3's stunning 5.5" Quad HD display delivers vibrant colours and ultra sharp images. With 538ppi images on the G3 appear as crisp and clear as high quality print.
13MP OIS Camera with Laser Auto Focus
Laser Auto Focus
Not only does the OIS (Optical Image Stabilization) function help reduce blur, the laser focus feature measures the distance to the subject and focuses the shot within 0.3 of a second*, so you can quickly take beautiful photos with the 13MP camera. The laser focus also helps take pictures quickly in darker conditions by assisting autofocus adjustment.
Dual LED Flash
With the BSI (Back Side Illuminated) sensor, the flash produces less blurry and much brighter pictures even under poor lighting conditions. Having two different coloured lights allows the camera to produce more natural colour tones when the flash is used.
Touch & Shoot
Unnecessary icons on the screen have been eliminated to give you a clear view. Plus, it simplifies the process of taking shots. Now simply get a focus and take a shot with just one touch.
*Based on internal testing of continuous auto focus mode at 1,000 lux according to LG test method.
Quick Circle Window Case
The circle design of the display window of the flip cover** displays 6 icons which you can choose, making them easier to access.
Plus the soft ambient glow inside the circle adds a touch of class and sophistication.
Smart Keyboard
LG G3's smart keyboard makes typing easier and faster and helps reduce typing mistakes.
Features include options to personalize the keyboard position on the screen, size adjustable
typing, word completion and quick correction.
General
Full Touch Screen
Silky White
HIDE 

Battery
Type
Removable
Wireless Charging
HIDE 

Operating Frequency
2G (GSM/EDGE)
3G (HSPA+42Mbps/HSPA+21Mbps)
4G / LTE
850/900/1800/1900 MHz
850 / 900 / 2100 MHz
700 / 1800 / 2100 / 2600 FD , 2300 TD
HIDE 

Sim Card
HIDE 

Operating System
OS
Processor Name
Processor
RAM
Android­™ 4.4.2, KitKat
Qualcomm® Snapdragon™ 2.5 GHz Quad-Core Processor
Quad-Core
2GB / 3Go
HIDE 

Screen Display
5.5″
Quad HD (2560 X 1440)
HIDE 

Memory
HIDE 

Camera
Mega Pixels
Mega Pixels (Front)
Optical Image Stabilisation (OIS)
Flash/LED
13
2.1MP
Yes (Laser Auto Focus)
Dual Flash
HIDE 

Sound
1W Speaker with Boost AMP
HIDE 

Connectivity
Bluetooth
USB
NFC
Wi-Fi
A-GPS
Bluetooth 4.0 LE (APT-x)
v2.0
Yes
802.11 a/b/g/n/ac
Yes, Glonass
HIDE 

Others